we provide a range of fun and educational activities for children of all ages, including Summer camps, year-round swim and tennis lessons and clinics, and childcare services in our Kid's Club for children aged 6-weeks to 12-years.
Join us for a fun and exciting summer experience at our Tennis Camp for juniors, where young players of all skill levels can develop their tennis skills, make new friends, and enjoy a morning filled with active play and expert instruction.
June 5 – July 28
Age: 5 – 10
Monday – Friday
Morning Clinic: 9:30 am – 1:00 pm
Our clinics use the latest tennis teaching methods and focus on tennis fundamentals such as
agility, balance, coordination, footwork, stroke production, and match play.
Please note: For a full day of camp, please see our SPLASH Camp description, which includes morning tennis play.
Tennis Camp Only Pricing:
Member: 
$475 / week
Non-Member:
$525 / Week
At Splash Camp, kids will spend the morning learning and practicing various tennis techniques and strategies, before cooling off in the CVAC Pool with games and supervised free swim.
June 5 – July 28
Age: 5 – 10
Monday – Friday
Morning Clinic: 9:30 am – 1:00 pm
Swim Clinic: 1:00 pm – 4:00 pm
Please note: Splash Camp is an add-on of Tennis Camp.
Tennis Camp + SPLASH Camp Pricing:
Member:
$525/ week
Non-Member:
$599 / Week
As an authorized American Red Cross Learn-to-Swim provider, our mission is to offer structured and developmentally appropriate instruction to all ages, infants to adults, in a supportive and caring environment. Our experienced and certified instructors strive to develop a trusting relationship in which participants are able to maximize success.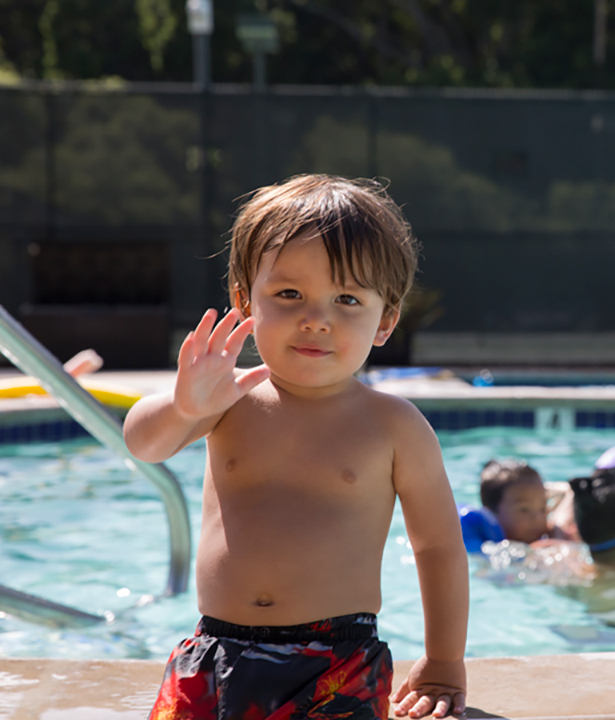 A fun and educational way to get young kids started in the pool at an early age. Ages: 6 months-2 years.
More information coming soon!
To learn how to reserve childcare, please click the link below.