Our Pilates method focuses on creating adaptable, powerful muscles with customized exercises for everyone.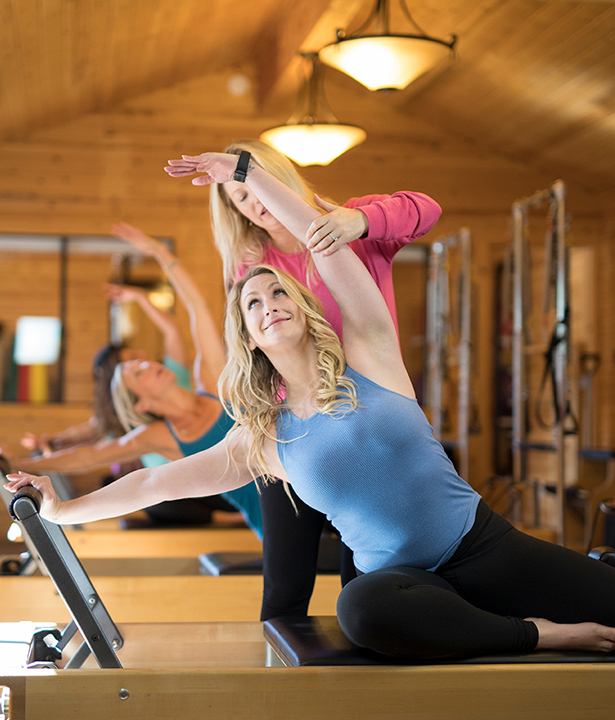 Meet our highly skilled Pilates instructors, dedicated to helping you achieve your fitness goals and experience the transformative power of Pilates.
Experience Pilates at its finest in our wood cabin-like studio, equipped with top-of-the-line Reformers, Towers, and Chairs.
The Pilates Reformer is a sophisticated system of springs, straps, and pulleys that acts as resistance to aid the body while working on a rolling platform called the carriage. Benefits of the Reformer include:
Versatile and efficient movement patterns with the use of different tools such as jumpboard, standing platform, reformer box, and dowels

Build strong muscles and bones

Increase flexibility and mobility

Gentle on joints

Stability training
The Pilates Tower is attached to the Reformer and allows the opportunity to sit, stand or lie down (based on the exercise) using a variety of springs and bars to increase strength, flexibility, stabilization, and muscular endurance.
The Pilates Chair resembles a backless chair with a padded seat on top and pedals attached to offer strong, medium, or low resistance. Exercises can be performed sitting or standing on the padded surface, standing behind or in front of the chair, lying on the padded surface while pushing down on the pedals with hands, and more. Benefits of the Chair is unique balance training, deep core strength, and total body endurance.
We offer a range of Pilates packages, including private classes, duet/semi-private sessions, and group reformer classes for both members and non-members.
CONDITIONS:
Packages are non-refundable. If you have any questions, please contact our Fitness Director, Kimi Hori, at Kimi@CVAClife.com.
If you are unable to keep your scheduled appointment, to allow a waitlisted member to attend, please cancel your registration at least 24 hours in advance to avoid being charged. If you are a non-member, please notify the CVAC Concierge or Fitness Director to assist with the un-registration.
Pilates teaches us body awareness, good posture, and graceful movement. The beauty of Pilates is that it is modifiable to suit the body of the individual performing each exercise; training for rehabilitation, general workouts that will protect your body from being injured in the process, and body conditioning for athletes of all trades.
Please arrive 10 minutes prior to your scheduled class or session to fill out the required registration form.

Wear fitness clothing that permits movement without restriction allowing Pilates teachers to see your alignment and body position for effective movement.

Clean socks are required; barre/yoga/pilates socks recommended.

All sessions have a strict 24-hour cancellation policy (including the first session).

If you arrive more than 10 minutes late, you may not participate in the class. This is to protect you from injury and out of respect for your teacher and classmates. Exceptions may be made at the discretion of the teacher, and whether you are capable of doing your own warm-up.

Inform your Pilates teacher of any injuries, body adjustments, or special conditions prior to your session.

Please ensure you sign up for classes at the Pilates studio, the Concierge, or with the Pilates teacher directly; we cannot guarantee your space otherwise.

There are no refunds on packages purchased at Carmel Valley Athletic Club.

Please be mindful of noise when sessions are taking place.